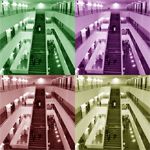 Open-Rank Positions at the Department of Psychology, Bilkent University
Bilkent University invites tenure-track faculty applications (rank open) in the Department of Psychology. The university's strategic plan includes an expansion of the psychology department. Accordingly, we seek applications from promising or established scholars in systems neuroscience, cognitive neur...
Read More
---
Betül Urganci Admitted to Cornell University PhD Program with Full Scholarship!
Betül Urganci, a graduate student of Gül Günaydin, has been admitted to Cornell's Ph.D. program on a full scholarship. Congratulations to Betül and good luck in the US!
---
Bilkent Students Receive Prestigious Undergraduate Project Grants (TUBITAK 2209-A)
İpek Özkaya, Ayça Başçı, and M. Şeyda Zayim have all received TUBITAK 2209-A undergraduate project grants for their research on developmental psychology!
İpek's project is on The Effect of Social and Organizational Support on Mothers' Self-Efficacy and Life Satisfaction (Project Number: 1919B011603410, Advisor: Hande Ilgaz).
Ayça Başçı and M. Şeyda Zayim's project is on The Effectiveness of Digital Apps in Promoting Spatial and Quantity Value Comparison...
Read More
---
All News