Ausaf Ahmed Farooqui, Ph.D.
Assistant Professor, Department of Psychology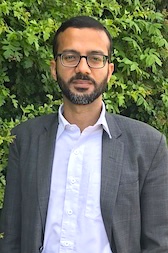 Office at Psychology Department: H344
      Office at UMRAM: SC-206
      Phone: +90 312 290 1153
---
Education
PhD, University of Cambridge, UK (2012)
---
Research
My research focuses on the aspects of our brain and mind that allow us to forgo our habits, learn new things, have goals and achieve them, while having an insight into what and why we are doing. One line of my work is on understanding frontal and parietal cortices. These are brain regions that activate or deactivate whenever we do anything, and whose damage leads to a decrease in fluid intelligence as well as in the ability to learn new tasks and goals. A second line of my work is on the cognitive underpinnings that allow us to be conscious and be able to control and organize our thoughts and behaviors. I use neuroimaging methods along with those of cognitive and neuropsychology. 
---
Awards
2015 – SAS Recognition Award (for excellence in research), Medical Research Council – Cognition & Brain Sciences Unit, UK

2014 – SAS Recognition Award (for excellence in research), Medical Research Council – Cognition & Brain Sciences Unit, UK

2010 – College Senior Scholarship (for outstanding PhD work), Fitzwilliam College, University of Cambridge

2008 – College Senior Scholarship, Fitzwilliam College, University of Cambridge

2007 – Gates Cambridge Trust Scholarship covering entire cost of PhD along with stipend.

2007 – Overseas Research Scholarship to undertake research studies in the UK

2006 – Postgraduate Merit Award, National Brain Research Centre, India

2004 – Sorel Catherine Freymann award (for the best graduate in Paediatrics), All India Institute of Medical Sciences, New Delhi, India
---
Publications
Farooqui A.A, Manly T. Hierarchical Cognition causes Task Related Deactivations but not just in Default Mode Regions. eNeuro (2018), 5 (6) ENEURO.0008-18.2018. https://doi.org/10.1523/ENEURO.0008-18.2018
Farooqui A.A, Manly, T. We do as we construe: extended behavior construed as one task is executed as one cognitive entity. Psychological Research (2019), 83: 84-102. https://doi.org/10.1007/s00426-018-1051-2
Farooqui A.A, Manly T. When Attended and Conscious Perception Deactivates Fronto-Parietal Regions. Cortex (2018), 107: 166-179. https://doi.org/10.1016/j.cortex.2017.09.004
Farooqui A.A, Manly T. Anticipatory control through associative learning of subliminal relations: invisible may be better than visible. Psychological Science (2015), 526(3):325-34. https://doi.org/10.1177%2F0956797614564191
Farooqui A.A, Mitchell D, Thompson R, Duncan J. Hierarchical organization of cognition reflected in distributed frontoparietal activity. Journal of Neuroscience (2012), 32(48):17373-81. https://doi.org/10.1523/JNEUROSCI.0598-12.2012