Instructor, Department of Psychology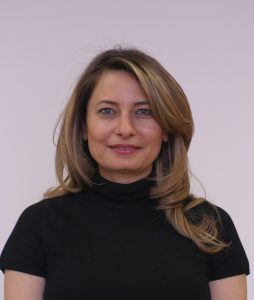 Office: RA-108
      Phone: +90 312 290 5030
Personal Website:
 http://www.bim.bilkent.edu.tr/~inanc/
---
Biography
Ebru Evrensel Inanc has been working at Bilkent University, Business and Information Management Department, since 1998. She received her PhD in Psychology (Industrial/Organizational Psychology) from Walden University (USA) in 2018. She did her BA in English Language and Literature at Hacettepe University, and her MA in European Union Studies at Atılım University. Since 1998, she has been giving courses related with psychology and communications.
---
Education
PhD in psychology, Walden University, Minnesota (USA)

MA in European Union Studies, Atılım University (Turkey)

BA in English Language and Literature, Hacettepe University (Turkey)
---
Research
Dr. Inanc's primary research area is industrial/organizational psychology. Her focus is on organizational development, work attitudes, career development, job satisfaction and motivation, employee performance, small group process, job analysis and individual assessment. Dr. Inanc also tries to address problems such as employee recruitment, selection and placement processes together with in-service training and performance measurement.
---
Publications & Conference Presentations
Inanc, E. E. & Ozdilek, E. (2015). Relationship between the organizational commitment and job satisfaction of academic staff in Turkey. International Organization for Research and Development. 1-12.
Inanc, E. E. & Ozdilek, E. (2016). Work Values as Predictors of Boundaryless Career Attitudes of Generation Y Turkish Higher Education Students. 3rd International Conference on Education and Social Sciences. Edited by Uslu, F. 473-182.
Inanc, E.E. The Mediating Effect of Leader Member Exchange on Personality Congruence and Affective Commitment. Diss. 2018. Walden University. ISBN: 9780355744521.